Free Drivers Education Video
Learn how to pass the written test with this free 30 minute video training session.
The training includes sample animations of correct driving techniques and an extensive testing section.
Learn by video

Download (AVI) Video to watch offline
Learn by text - click a topic below to read more
Topics Covered in Part 1 - Right of Way, Four Way Stop and Turns
Topics Covered in Part 2 - Safe Passing, Signals and Lanes, Blind Spot, Divided Highway, Cloverleaf and Backing

Topics Covered in Part 3 - Parking, School Buses, Emergency Vehicles and Following Distances

Topics Covered in Part 4 - Stopping & Reaction, Lights and Conclusion

---
Learn by audio (MP3)
It is our goal to provide training material that meets the needs of all learners for those who learn best using audio you can download the MP3 version of the training .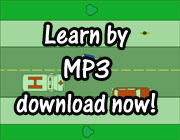 ---
Test your knowledge
We strongly suggest that you first complete the video, audio or text based training above before attempting the quiz. All questions for the quiz are random and all answers can be found in the provided training materials. Take your written exam now or Take the traffic sign quiz.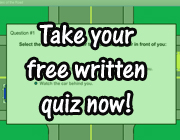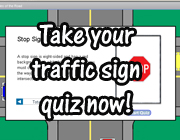 ---
Certificate of Completion
Impress your parents! - Give them a copy of your certificate of completion after you pass the quiz.
Only those who have passed the training will be eligible to order a certificate of completion, you can use this to show you are serious about becoming a new driver.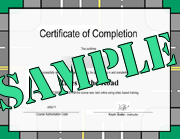 ---
Questions and Comments
If you have questions or comments please join our Facebook Group

---
More Courses
My first puppy - Courseware
Copyright 1999 CanSomebodyhelpme.com, All rights reserved.